Appendix 5: Hazard/crisis digital tools
The following examples are some of the many examples we examined that brought to crisis or attempted to bring civil defence information online and into the hands of people who may need it.

Hazard app (Red Cross)
Analysis:
This app, beyond the alerts, is heavily weighted towards content giving general information on hazards and providing some checklist type information. It is informative, but beyond alerts (that do seem to be relatively geographically unspecific) it is not particularly personalised or localised.
User comments:
Averages 2.5 stars (out of 5) on Apple App Store
3 stars (out of 5) on Google Play Store
"The location of our place as recorded by the app during the initial startup process is incorrect, though the description is ok. There is no way to change it to show the correct location. This, in case of emergency, can lead to serious problems if the rescue used the map to locate our place."
"…Programme needs to be far more selective and only issue relevant warnings. The auto GPS location is well out. But this is a google maps fault as well. Very irritating."
"… it's badly written and delivers multiple identical warnings when a widespread warning intersects multiple geographical areas."
"Not ready: Great idea but as of June 2016 this app appears not ready for android release. … Suggest lots more testing before it is released again and publicised. It's too important to be a muck up."
Auckland Civil Defence
Note: this app is being decommissioned as of June 30 2016.
Analysis:
Very slow to load, and Auckland-centric in content (though not in vocabulary–there was clearly an intention to roll this out further). Uses the Civil Defence visual language heavily (without any regional indication). There is a space for events within this app, but in the period of research, none were ever visible. This app is a good example of a good idea, unresourced and inadequately maintained.
User comment:
3 stars on Apple App Store
3.7 on Google Play Store
"How many years has this app been available and still the only region available for alerts is Auckland? Come on! There is more to NZ than Auckland. What a waste of time."
"Can't use it without logging in! Guys, don't you know how big a turn-off that is. Get your act together and do a guest version"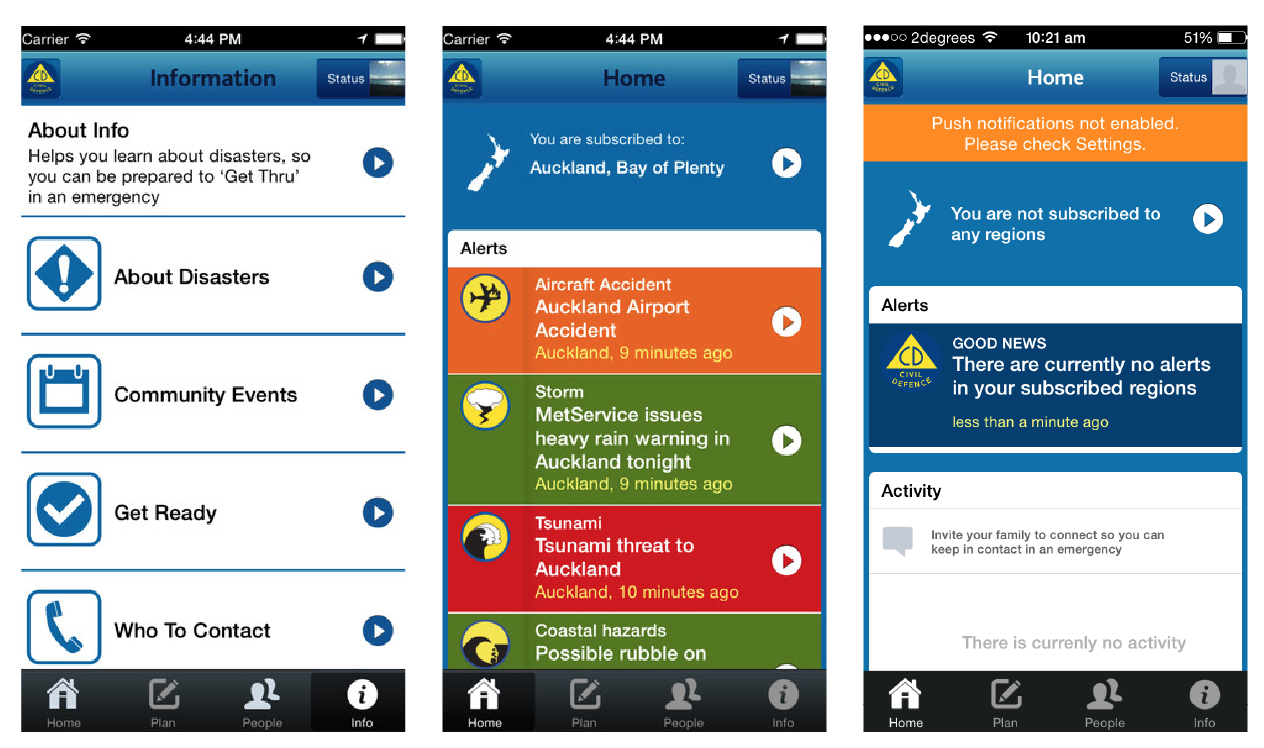 Geonet
Analysis:
This app has real value for users, and has a clear and well defined purpose. It offers tailored information via alerts (though recent issues reported by users underline the need for constant updates to software to deal with changes in operating systems). The collection of citizen data via 'felt it' reports on the app is straightforward, though requires social media sign in which alienates some users. The web interface for reporting is not as refined, but collects comprehensive data.  
User comments:
4+ stars on Apple App Store
4.2 stars on Google Play Store
"Simple and to the point, but also very informative and always up to date."
"Yes, we look at it after any decent jolt. Good stuff"
"Good job Still prefer the website, but getting better"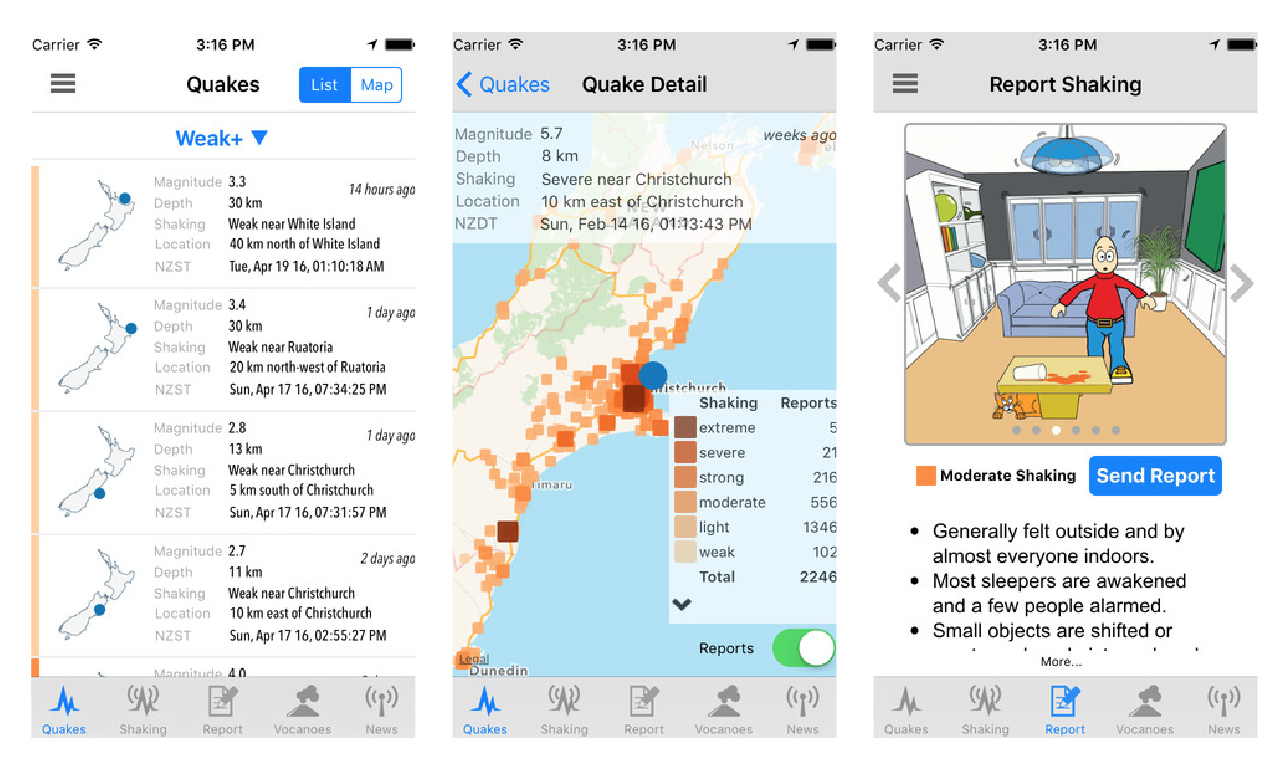 Emergency AUS
iTunes link
Google Play link
Web link
Analysis:
Available via the web and via an app, giving real time hazard information from emergency services. Web version does not allow the addition of public observations, but is otherwise a straightforward and useful experience. Icon system is comprehensive and available as an open source toolkit.
User comments:
4 stars+ on Apple App Store
4 stars on Google Play Store
"…not shareable on social media or even by email, so I use this in conjunction with other emergency apps which are.This is the only app that allows you to pinpoint areas for continual monitoring."
"Need to be able to filter out total fire bans... don't need to be constantly updated on these when nothing else is happening."
"…I see that the app will only be suited for the current devices, and they've shut off app functionality to older devices. If this is an emergency app, it shouldn't have to be so demanding on what version of iOS it should run on."
"…Kept us up to date and correctly informed, especially helped in being on top of events and ready to evacuate, which we did have to do."